XML validation error.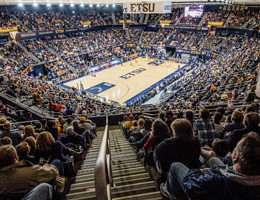 FREEDOM HALL
ADDRESS:
1320 Pactolas Road
Johnson City, TN

BUILT: 1974
CAPACITY: 6,177 (basketball) 

TICKETING NOTES
• Ticket windows open 1 hour before tipoff
• Sales windows located at Gate 24
• Gates open 1 hour before tipoff
• Cash, check, and credit cards accepted
• Will Call located at Gate 4
• Ticket windows and Will Call close at halftime
SINGLE-GAME TICKETS
► GOLD LEVEL: $30.00
► SILVER LEVEL: $20.00
► BRONZE LEVEL: $15.00
► UPPER BASELINE: $10.00
GROUP TICKETS
► $6.00 for groups of 10 to 49
► $5.00 for groups of 50 or more
Call 423-439-4828 for details
Group discounts available in Upper Baseline seating area only
Group discounts not available for Chattanooga, UNCG, Wofford, or Furman games
STUDENT TICKETS
► Student seating is located in Sections L13 through L15 and U12 through U16. Students should show their ETSU ID at the main gate for entry, unless specified in advance for games with a high demand for tickets. Student guest tickets can be purchased at ticket windows for $5.00 each.